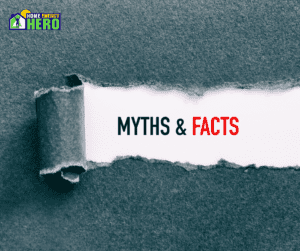 Are you considering a home energy audit but feel overwhelmed by all the conflicting information out there? Don't worry, we're here to help debunk common myths and separate fact from fiction. In this article, we'll address some of the most widespread misconceptions about home energy audits and provide you with accurate information to make informed decisions.
Understanding the importance of home energy audits
Home energy audits, often underestimated, play a pivotal role in understanding and improving the energy efficiency of your home. These assessments offer a comprehensive look into how your living space consumes energy, pinpointing areas where wastage occurs. By identifying inefficiencies in insulation, heating and cooling systems, appliances, and more, you gain valuable insights into how to reduce energy consumption. This not only translates into lower utility bills but also contributes to a greener, more sustainable future. Discover the untapped potential of your home's energy efficiency through a well-executed energy audit and take a significant step toward saving both money and the environment.
Myth #1: Home energy audits are expensive and not worth the investment
One common misconception is that home energy audits are costly and don't provide a sufficient return on investment. In reality, the cost of an energy audit is often quite reasonable, and the potential savings can far outweigh the initial expense. These audits uncover hidden inefficiencies, helping homeowners identify where their energy dollars are slipping away. By addressing these issues, you can significantly reduce your utility bills and environmental impact. So, don't be deterred by the initial cost – consider a home energy audit as an investment that pays off both in terms of your finances and your contribution to a more sustainable future.
Myth #2: Home energy audits are only necessary for older homes
It's a common misconception that only older homes benefit from energy audits. In truth, energy audits are valuable for homes of all ages. Even newly constructed homes can have energy efficiency issues. An audit can reveal areas of improvement, such as suboptimal insulation, inefficient appliances, or ductwork problems. By addressing these issues, you not only save on energy bills but also enhance your home's overall comfort and reduce your environmental footprint. So, whether your home is old or new, consider an energy audit to unlock hidden energy-saving potential.
Myth #3: Home energy audits are time-consuming and intrusive
Some homeowners shy away from energy audits, believing they are a time-consuming and intrusive process. In reality, today's energy audits have become more streamlined and less invasive than ever. Professionals use advanced tools and technology to assess your home's energy performance efficiently. These audits typically take a few hours, and the experts work diligently to minimize disruptions. The insights gained from this relatively brief assessment can lead to significant energy savings, making the time invested in an audit a wise choice for anyone looking to enhance their home's efficiency and comfort. So, rest assured that energy audits are a convenient step toward a more energy-efficient home.
Myth #4: Home energy audits only focus on HVAC systems
Another common misconception is that home energy audits are solely concerned with heating, ventilation, and air conditioning (HVAC) systems. While these systems are essential components, a comprehensive energy audit takes a much broader view. It assesses all aspects of your home's energy use, including insulation, windows, appliances, lighting, and more. By scrutinizing every energy-consuming element, you get a holistic understanding of your home's efficiency. This comprehensive approach allows you to identify and address all potential sources of energy waste, helping you create a more comfortable, cost-effective, and eco-friendly living space. So, don't let the myth of a narrow focus deter you from experiencing the full benefits of a home energy audit.
Myth #5: Home energy audits are only for homeowners, not renters
Another common misunderstanding is that energy audits are exclusively for homeowners, but renters can also reap the benefits. While homeowners have more control over making structural changes, renters can use audit findings to make more efficient choices, such as using energy-efficient appliances and advocating for improvements from landlords. In many cases, renters can enjoy a more comfortable and cost-effective living environment by participating in or requesting an energy audit. It's a win-win for all, as energy-efficient homes benefit everyone, regardless of whether you own the property or not. So, don't let your rental status deter you from exploring the advantages of a home energy audit.
Debunking the myths: The truth about home energy audits
In the world of energy efficiency, home energy audits are a game-changer. But, like many valuable tools, they're not immune to common misconceptions. We're here to set the record straight and reveal the real scoop on these audits. From the misconception that they're too expensive to the belief that they only benefit older homes, we'll delve into these myths and uncover the truths behind them. Energy audits are an essential step toward reducing your carbon footprint, cutting utility bills, and enhancing home comfort, regardless of your home's age or your status as a homeowner or renter. So, let's explore the realities of home energy audits and how they can be a powerful tool for homeowners, renters, and the environment.
Conclusion: Take control of your home's energy efficiency
It's clear that home energy audits are not just for the select few or the elite, but for anyone who values cost savings, comfort, and environmental responsibility. By busting the myths and embracing the reality of energy audits, you can take control of your home's energy efficiency. Whether you're a homeowner or a renter, whether your abode is old or new, an energy audit is a valuable step to make. It's a proactive way to identify and address energy inefficiencies, reduce your carbon footprint, and enjoy the many rewards of a more energy-efficient home. So, why wait? Seize the opportunity to make your living space more efficient, comfortable, and eco-friendly – all by taking control of your home's energy efficiency.

If you're ready to schedule a home energy audit, please contact us.